Map of Colombo- Sri Lanka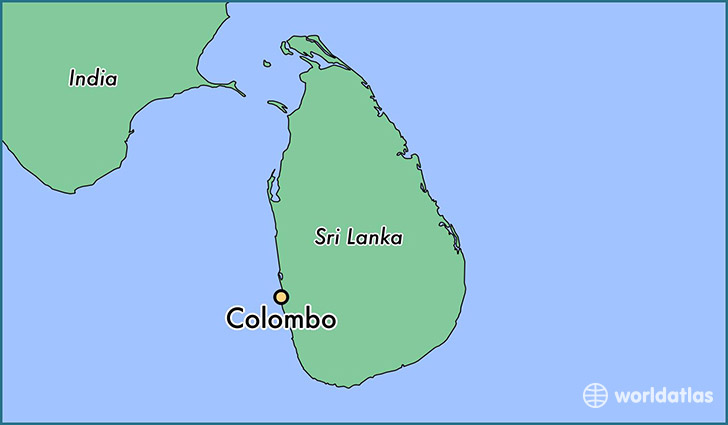 Colombo is the commercial capital and largest city of Sri Lanka. According to the Brookings Institution, Colombo metropolitan area has a population of 5.6 million, and 752,993 in the city proper. It is the financial centre of the island and a popular tourist destination. It is located on the west coast of the island and adjacent to Sri Jayawardenepura Kotte, the legislative capital of Sri Lanka. Colombo is often referred to as the capital since Sri Jayawardenepura Kotte is within the urban area of, and a satellite city of, Colombo. It is also the administrative capital of Western Province, Sri Lanka and the district capital of Colombo District. Colombo is a busy and vibrant place with a mixture of modern life and colonial buildings and ruins. It was the legislative capital of Sri Lanka until 1982.
Due to its large harbour and its strategic position along the East-West sea trade routes, Colombo was known to ancient traders 2,000 years ago. It was made the capital of the island when Sri Lanka was ceded to the British Empire in 1815, and its status as capital was retained when the nation became independent in 1948. In 1978, when administrative functions were moved to Sri Jayawardenepura Kotte, Colombo was designated as the commercial capital of Sri Lanka.
Like many cities, Colombo's urban area extends well beyond the boundaries of a single local authority, encompassing other municipal and urban councils such as Sri Jayawardenepura Kotte Municipal Council, Dehiwala Mount Lavinia Municipal Council, Kolonnawa Urban Council, Kaduwela Municipal Council and Kotikawatte Mulleriyawa Pradeshiya Sabha. The main city is home to a majority of Sri Lanka's corporate offices, restaurants and entertainment venues. Famous landmarks in Colombo include Galle Face Green, Viharamahadevi Park, Beira Lake, Colombo Racecourse, Planetarium, University of Colombo, Mount Lavinia beach, Nelum Pokuna Theatre, Colombo Lotus Tower (under construction) as well as the National Museum.
Population
Colombo metropolitan area has a population of 5.6 million, and 752,993 in the city proper.
Language
Sinhala and Tamil are the official languages of Sri Lanka. Majority of Sri Lankans are conversational in English, so you are unlikely to face communication issues. Sri Lankans learn English as a second language at school starting from primary grades.
Currency
The Sri Lankan currency is the Rupee (Rs), divided in to 100 cents. Notes come in denominations of 10, 20, 50, 100, 200, 500, 1000 & 2000.
Geography
Colombo's geography is a mix of land and water. The city has many canals and, in the heart of the city, the 65-hectare (160-acre) Beira Lake. The lake is one of the most distinctive landmarks of Colombo, and was used for centuries by colonists to defend the city. It remains a popular attraction, hosting regattas, and theatrical events on its shores. The Northern and North-Eastern border of the city of Colombo is formed by the Kelani River, which meets the sea in a part of the city known as the Modera (mōdara in Sinhala) which means river delta.
Climate
Colombo features a tropical monsoon climate under the Köppen climate classification, falling just short of a tropical rainforest climate. Colombo's climate is fairly temperate all throughout the year. From March to April the average high temperature is around 31 °C (87.8 °F). The only major change in the Colombo weather occurs during the monsoon seasons from May to August and October to January. This is the time of year where heavy rains can be expected. Colombo sees little relative diurnal range of temperature, although this is more marked in the drier winter months, where minimum temperatures average 22 °C (71.6 °F). Rainfall in the city averages around 2,500 millimetres (98 in) a year.
Culture
Annual cultural events and fairs
Colombo's most beautiful festival is the celebration of Buddha's birth, enlightenment and death all falling on the same day. In Sinhala this is known as Vesak. During this festival, much of the city is decorated with lanterns, lights and special displays of light (known as thoran). The festival falls in mid May and lasts a week. Many Sri Lankans visit the city to see the lantern competitions and decorations. During this week people distribute, rice, drinks and other food items for free in dunsal which means charity place. These dunsal are popular amongst visitors from the suburbs.
Since there is a large number of Muslims in Colombo. Eid Ul Fitr and Eid Ul Adha are two Islamic festivals that are celebrated in Colombo. Many businesses flourish during the eventual countdown for Eid Ul Fitr which is a major Islamic festival celebrated by Muslims after a month-long fasting. Colombo is generally very busy during the eve of the festivals as people do their last minute shopping.
Christmas is another major festival. Although Sri Lanka's Christians make up only just over 7% of the population, Christmas is one of the island's biggest festivals. Most streets and commercial buildings light up from the beginning of December and festive sales begin at all shopping centres and department stores. Caroling and nativity plays are frequent sights during the season.
The Sinhala and Hindu Aluth Awurudda' is a cultural event that takes place on 13 and 14 April. This is the celebration of the Sinhala and Hindu new year. The festivities include many events and traditions that display a great deal of Sri Lankan culture. Several old clubs of the city give a glimpse of the British equestrian life style; these include the Colombo Club, Orient Club, the 80 Club, the Colombo Cricket Club.
Transport
Bus
Main article: Colombo Bus Routes
Colombo has an extensive public transport system based on buses operated both by private operators and the government owned Sri Lanka Transport Board (SLTB). The three primary bus terminals — Bastian Mawatha, Central, and the Gunasinghapura Bus Terminals — are in Pettah. Bastian Mawatha handles long distance services whereas Gunasinghapura and Central handle local services.
Rail
Train transport in the city is limited since most trains are meant for transport to and from the city rather than within it and are often overcrowded. However, the Central Bus Stand and Fort Railway Station function as the island's primary hub for bus and rail transport respectively. Up until the 1970s the city had tram services, which were discontinued. Other means of transport includes auto rickshaws (commonly called "three wheelers") and taxicabs. Three wheelers are entirely operated by individuals and hardly regulated whilst cab services are run by private companies and are metered.
Main Line – Colombo Fort to Veyangoda; onwards to Kandy, Badulla, Matale, Kurunegala, Anuradhapura, Kankesanturai.Trincomalee, Batticaloa, Talaimannar (presently just Madhu Road).
Coastal Line – Colombo to Panadura; onwards to Galle and Matara.
Puttalam Line – Colombo to Ja Ela; onwards to Negombo and Puttalam.
Kelani Valley Line – Colombo to Avissawella.
Several types of rail based options have been proposed to control to control the excessive traffic.Advanced stages of feasibility investigations into the Colombo Metro Rail, a Mass Rapid Transit railway system has begun. The project is carried out by NEB Rapid Infrastructure Projects Pvt. Ltd., an Indian and Singaporean collaboration. Alternatively a monorail system is planned too.[51] Currently Sri Lanka is searching for possible investors for a Monorail or a subway system.
Roads
Post-war development in the Colombo area also involves the construction of numerous expressway grade arterial road routes. The first of these constructed is the Southern Expressway, which goes from Kottawa, a southern suburb of Colombo, to Matara City in the south of the country. Expressways under construction in the Colombo metropolitan area include the Colombo–Katunayake Expressway which was opened in October 2013 and the Colombo orbital bypass Outer Circular Highway (Arthur C. Clarke Expressway) which is due to be opened in 2014. The Colombo-Katunayake Expressway (E03) runs from Peliyagoda, a nourthern suburb of Colombo, to Colombo International Airport and it linked with one of the major commercial hubs and a major tourist destination of the country, the city of Negombo.
A1 highway connects Colombo with Kandy.
A2 highway connects Colombo with Galle and Matara
A3 highway connects Colombo with Negombo and Puttalam
A4 highway connects Colombo with Ratnapura and Batticaloa
Ferry
An international ferry liner, the Scotia Prince, is conducting a ferry service to Tuticorin, India. Ferry services between the two countries have been revived after more than 20 years.
Air
Bandaranaike International Airport and Ratmalana Airport are the city's airports. Bandaranaike Airport serves the city for most international flights, while the Ratmalana Airport primarily serves local flights and temporary international business flights.